IntelliJ IDEA 2018.1 候選版釋出了。這個新版本包括對 Spring Boot 的改進。 IDE 顯示在執行儀表板的 Beans 選項卡中的應用程式上下文中註冊的所有 Bean。現在已經擴充套件了這個功能,這些資訊也可以在編輯器中找到。 新的裝訂圖示顯示在執行時使用的 bean 附近。 通過點選這些新的陰影圖示,您可以導航到依賴 bean。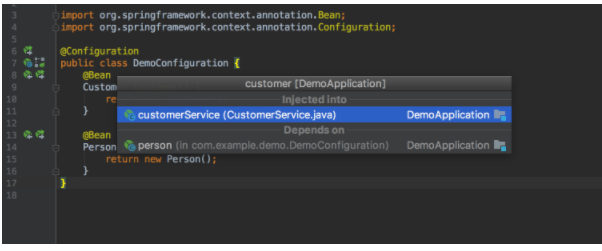 修復的問題:
The IDE now allows you to resize the columns in theDiff Viewer.

The IDE now preserves the Debuggerstab layout in the Run Dashboard.

The Enter file namepopup is now closing after losing focus.
JDK 已更新至 1.8.0_152-release-1136-b20 x86_64,整合了以下顯著修復:
Logging of graphics primitives was extended:  JRE-646.

The support for explicitly registered fonts on macOS was reverted because it introduced an issue with IME-candidate Japanese characters in IntelliJ IDEA: JRE-674.

Fixes the damaged UI after changing DPI: JRE-660.
詳細更新內容請參閱  IDE和 JRE釋出說明,以上內容來自釋出部落格。
下載地址: